Kauffman Stadium Seating Chart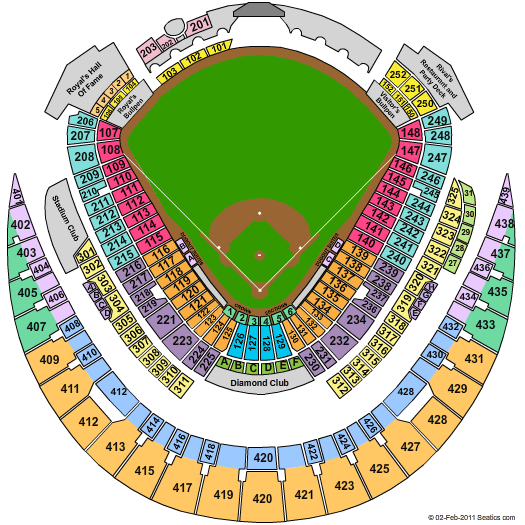 NOTE: Seating layouts can change depending on the type of event. The individual seating chart for the event can be seen when selecting your tickets.
The Kauffman Stadium can fit 37, 903 fans per game. It offers each fan to have an almost unobstructed view of the game play. Some seats may have nettings in front of them for the safety of the crowd.
Premium Seating
There are a few options for premium seatings in Kauffman Stadium. The seats directly behind home plate, in sections 1-6 are known as the BATS Club, which includes food and drink wait service, as well as access to the All-Inclusive Crown Club Lounge.
The Diamond Club Seats, located in sections A-F offer a great views, wider and more comfortable seats, and in-seat wait service (food not included). However, ticket holders for the Diamond Club would have access to a private bar.
Dugouts and Bullpens
The Kansas City Royals dugout is located in front of sections 132-136. Where else, the visitors dugout is located in front of sections 119-123.
On the other hand, the Royals bullpen is located in front of sections 150-152, and the visitors' bullpen is in front of sections 104-106.
Are there shaded seats at Kauffman stadium?
Shaded seats are along the first base side. However, if you cannot score tickets along the first base line, try for tickets in the 200 level above row G, which will be covered by the level above.
What are the best seats at Kauffman stadium?
These seats are generally located in the sections behind home plate, which include the Diamond Club and BATS Club. It is just as cliche as every stadium to have the best seats in their premium seatings.
Otherwise, Field Level seats in the infield (sections 118-137) are great options as well. Finally, the 200 level seats along the baselines will give you a bit more height to see the entire field, and seats above row G will keep you covered in the event that there is inclement weather.
Grab your tickets today and choose your desired seats. Visit the Kauffman Stadium schedule to select your event.
To view our ticket & refund policy please check the ticket information page.